News
Mandet 2.0.7 is released
22 November 2021
What's new
DCT detector (aligned double compression) for splicing added for JPEG images.
Luminance gradient filter is added.
Interlace test filter is added.
PRNU deviations video trend analyser added.
Summary and file layout panel added.
What's improved
When opening the compare window of a filter, the last filter result is shown instantly
Grey scale probability display mode added to JPEG block inconsistency, JPEG Ghosts filters
DCT Map filter is extended with DC and AC histograms
DCT Map filter is extended with individual component images and histograms
The Inpaint filter now has the option to distinguish identical pixels and clipped (value 0 or 255) pixels
The gradient filter has extra display options for horizontal, vertical and diagonal first and second order derivatives.
Frame type indication added to main player.
Pixel format, length and image dimensions added to status bar.
Hashes added to PRNU report.
Warning added on report close, to avoid unwanted deletion of reports.
Parameter graphs (line plots and histograms) added to reports.
What's fixed
Warning if a maximum number of items are added to a report to avoid memory exceptions.
Switching settings tab caused the 'root' setting to disappear. This has been resolved.
You want to stay up-to-date? Subscribe to the FOCLAR newsletter
Related news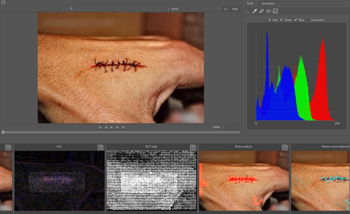 Introduction to Imagery Authenticity
10 March 2021
Over 25 years of experience in software development for forensics
Used worldwide in forensics and law enforcement
Streamlined design, intuitive to use and responsive communication
Practice-oriented and scientifically based